Complaints
Do you wish to make a complaint ?
1. First, get in touch with your usual contact person
Please get in touch with your usual contact.
If you are an insured member, contact your Client Services Team, which will take all steps necessary to respond to your claim and support you in your procedures.

In the event of an unsatisfactory response, you can formulate your request in writing (email, letter, etc.), you will receive a confirmation of receipt within 10 days of us receiving of your claim, and will be informed if, owing to specific circumstances, the processing time has been extended.
The full contact details of your Client Services Team are provided on your Membership Card (see opposite).
Important: we remind you that if your complaint requires medical parts to be sent, these must be sent to our medical officer and confidential, for the attention of the medical officer Henner.
Groupe Henner – For the attention of the medical officer Henner
14 boulevard du Général Leclerc – 92200 Neuilly- sur-Seine – France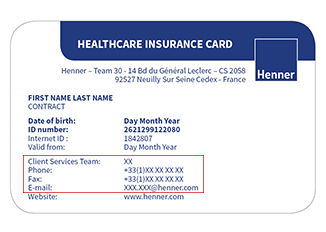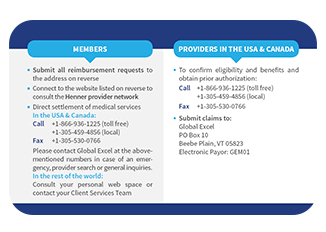 2. Then, contact the Henner Group Complaints Department
If you are not satisfied with the response given by your usual contact person, you may contact our Complaints Department. They will conduct a second analysis of your claim. To contact them:

If, in your view, the response given by the Henner Group's Complaints Department is unsatisfactory, you may contact the Complaints Department of your insurer, whose contact details will be provided to you on simple request by the contact person dealing with your complaint.

In any event, a definitive response will be provided within a maximum period of 2 months.
By post :
Groupe Henner
To the attention of the Quality Department
Héron Parc
40, rue de la Vague
59650 Villeneuve d'Ascq
3. At the end of a period of 2 months, as soon as you have expressed your dissatisfaction in writing, that it has been addressed directly to Henner or to the contract's insurer, you will have the possibility of seizing the competent Mediator:
Important: the competent mediator varies according to the insurer mentioned on your insurance documents. So you can enter by mail or via the online form:
Exemples : ABEILLE SANTE, AIG EUROPE, ALLIANZ, AWP HEALTH & LIFE SA, AXA France VIE, CNP ASSURANCES, GAN – GROUPAMA, GENERALI VIE, LA BANQUE POSTALE ASSURANCE, MFPREVOYANCE, MMA, ORADEA VIE, QUATREM, REMA, SMA VIE BTP, SOGECAP, SWISSLIFE
Find complet list on https://formulaire.mediation-assurance.org/Societes
Exemples : APICIL MUTUELLE, AESIO, LA MUTUELLE GENERALE, MUTUELLE BLEUE, MUTUELLE FAMILLIALE, MUTUELLE MIEUX ETRE, SMI, U.M.C
Find complet list on https://saisine.mediateur-mutualite.fr/
Exemples : AG2R ARPEGE, AG2R PRÉVOYANCE, APICIL PRÉVOYANCE, AUDIENS SANTÉ PRÉVOYANCE, IPECA PRÉVOYANCE, IPSEC, KLÉSIA PRÉVOYANCE, UNIPRÉVOYANCE, MALAKOFF HUMANIS PRÉVOYANCE
Find complet list on https://ctip.asso.fr/mediateur-de-la-protection-sociale-ctip/
Exemples: HARMONIE MUTUELLE, MGEN IB, MGEN SOLUTIONS, MUTUALIA ALLIANCE SANTE, MUTUALIA TERRITOIRES SOLIDAIRES, SMATIS