How does COVID-19 affect medical care and insurance claims ?
The Henner actuarial department released a new study focused on the impact of COVID-19 on medical care. It underpins the performance of insurance claims across its global customer base and the effects of lockdown measures on getting essential medical services for non-COVID-19 patients.
In the same study, it was found that the industry may face the risk of public health deterioration and potentially higher medical care costs due to a delay in the discovery of sickness, their treatment, and barriers in the continuity of preventive medicine for non-COVID-19 cases.
COVID-19: What we know so far
Since its first reported case in China in November 2019, the virus has spread rapidly across nearby nations due to its highly contagious nature. Especially vulnerable are the old male population and those who are obese or with underlying illnesses such as diabetes, heart disease and respiratory sickness.
There have been 21.5 million confirmed cases, according to data compiled by the John Hopkins University. Meanwhile, there are 510,000 deaths around the world with the United States having the lion's share of the death toll at 22%, followed by Brazil at 14%, and Mexico at 7%.
Recognizing the huge gap in treatment costs between countries
The cost of treating COVID-19 can go as high as 280,000 euros ($331,500) should you need to be admitted in the intensive care unit in developed countries such as the United States.
Severe cases leading to ICU admission in other coronavirus hot spots such as Mexico, Brazil, and India, can drag the medical bill to an average of 90,000 euros, 80,000 euros, and 30,000 euros, respectively, according to Henner's Medical Board.
Meanwhile, mild cases can be as affordable as a physician's fee for a consultation.
Depending on the policy being implemented in a certain country, the patient may be ordered to go on a home quarantine or stay in a quarantine facility or hospital once tested positive for the virus.
Specialist consultations retreat 73% in France amid lockdown measures
Given the highly contagious nature of the virus, lockdown and social distancing measures have been implemented to curb the spread among the general public. In France, government measures drove down general physician consultations by 56% while specialist consultations under Henner's portfolio saw a 73% decline.
Meanwhile, adults sent to the emergency room slipped 45% ,while the entry of children fell 70% in the Assistance publique – Hôpitaux de Paris (AP-HP) hospitals between mid-March and mid-April.
A sharp drop in all types of insurance claims under the Henner portfolio
Claims variation between 2019 and 2020, on the same period, all care combined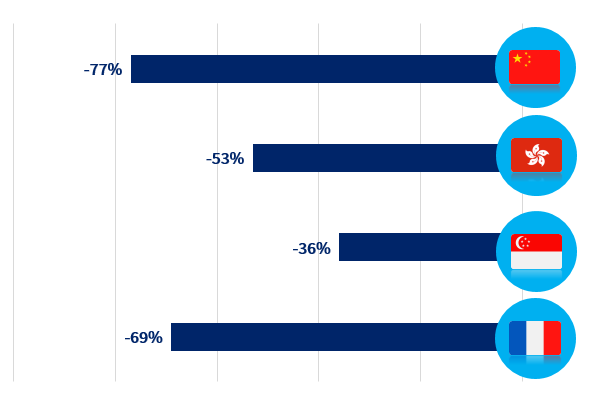 Henner's report showed a steep decline in insurance claims , including a 77% drop in all types of care in Mainland China for the period between mid-January and mid-March, compared with the same period in 2019. France also posted a 69% year-over-year decrease in insurance claims for all types of care and a 91% lower dental and vision claims in the period between mid-March and end of April.
In places such as Singapore where the government enforced a more lenient lockdown, the largest drop was by 45% in in-patient and maternity claims followed by a 35% lower incident of claims for the dental and vision category.
Claims variation between 2019 and 2020, on the same period, per type of benefits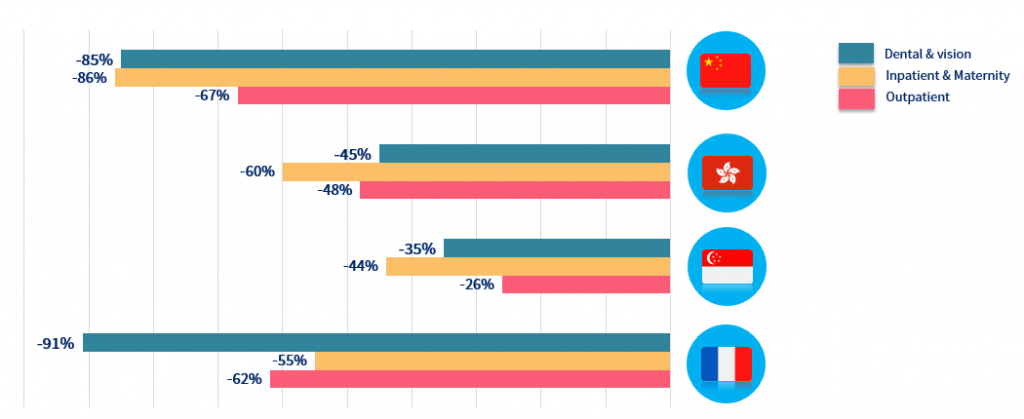 What can we expect from insurance players in the future?
Henner expects to be on top of the way the industry will respond to unprecedented data surrounding healthcare in the coming months.
Insurance players may ignore 2020 technical results and dwell on sector performance in 2019, and take into account the indexation and the medical inflation. This option will allow for ample headroom for high claims burden in the future for insurance companies, especially one in which a COVID-19 vaccine becomes mandatory.
They may also consider 2020 as an unusual year by foregoing any rate changes and still remain cautious about the expected benefits of this route.
Another road they may take is to reevaluate insurance packages pegged on competitive rates for successful client retention especially during these challenging times.
Henner International Team